Dear Friends and Valued Customers,

Welcome to our website. Hopefully this website finds you well and enjoying a profitable year. Our goals are to supply you with the finest deciduous shade and ornamental trees and shrubs and to provide you with the great service you deserve. The entire staff is dedicated to growing you the best trees possible.
We plant and harvest over 20,000 trees per year, reflecting over 150 varieties and cultivars. We work diligently to grow the highest quality possible at a competitive price. Our state-of-the-art irrigation and fertilization program produces trees with fuller heads and denser root systems. Combined with our meticulous maintenance program, our transplant survivability rate is one of the best in the industry. Our Picture Perfect Trees® will stand out on your landscape project and be the first to sell from your sales yard. Those are very important factors in determining the value of our product over our competitors.
We welcome you to visit our nursery anytime. A tour of the facility will show you the quality and selection we offer, and give you a chance to see some of our new varieties, including some unusual evergreens we have started growing. You can also view our extensive plant library by clicking on the product list link to the left.
We thank our loyal customers for their continued business and look forward to continuing to meet your expectations. We welcome our new customers and appreciate you giving us a chance to prove that Sunleaf Nursery will help you "grow" your business.
Thank you again for your business and friendship,

Robert S. Lyons
President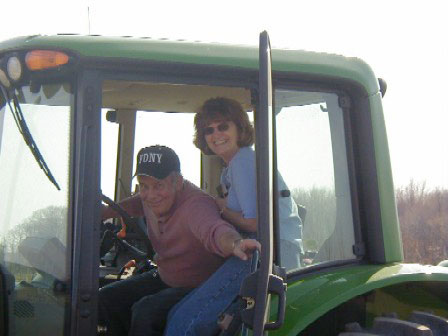 Sunleaf Nursery specializes in growing more than 150 varieties and cultivars of deciduous shade and ornamental trees ranging from the standard maples to the newer, unique, specialty material that sets projects apart from ordinary landscape installations. Our trees range in size from 1" to 3" caliper with some 3 ½" in the shade tree varieties. We are best known for our large specimen quality ornamentals such as Hydrangea p. 'Grandiflora' - tree form, and Syringa m. 'Palibin' std. An important part of Sunleaf Nursery is our people who enjoy working with our customers and friends, assisting them with plant selection, technical information and quality service.

Sunleaf Nursery is located on the south shore of Lake Erie. The lake moderates our weather allowing for gradual temperature changes throughout the year, avoiding early warm temperatures in the spring and early cold temperatures in the fall that damages the trees. This combined with plentiful rainfall, fertile soil, drip fertigation, and our cultural practices allows us to grow a complete tree with heavy root system in the root ball zone to maintain a full head once the trees are dug. Our trees have high survivability, performance, and great eye appeal which is why we can say we grow Picture Perfect Trees®.
While we do grow some large shrubs in their traditional growth habit, most of the trees that we grow are in tree form, including many that are usually grown as a multi-stem or shrub form. These are either on their own root or top grafted.



Sunleaf Nursery Maps
Directions to Sunleaf Nursery from East or West: Exit Interstate 90 at the Madison-Thompson exit 212 and turn north. Follow Rt. 528 north around the square in Madison and continue north on Rt. 528 approximately 2 miles to Rt.20/North Ridge Rd. Turn left and drive west approximately 1.5 miles. Sunleaf Nursery, 5900 North Ridge Rd., Madison will be on the left.

Volume Discounts | Contact Us | Terms & Conditions | Job Opportunities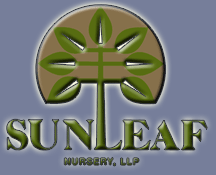 5900 North Ridge Rd. Madison, OH 44057
Ph: 440-428-4108 Fax: 440-428-5580
<![if !vml]>

<![endif]>