-please read before ordering-
1. ORDERS: Orders are booked subject to crop growing conditions and with the understanding that orders shall be void should injury befall the stock from drought, flood, fire, frost, hail, errors in count, or other causes beyond out control. All orders are subject to acceptance by the company at its Madison , Ohio office.
2. CANCELLATIONS: All cancellations must be made in writing 30 days prior to expected shipping date.
3. PRICES: Prices listed are for the nursery trade in the United States and Canada only. All prices herein are FOB Madison, Ohio and are per each. Prices include machine balling and burlapping in wire baskets unless noted otherwise. This list cancels all previous prices quoted or offered by us. Prices are subject to change without notice.
4. TERMS: Our regular terms are net 30 and are available to all customers with established credit records for prompt payments. Otherwise terms are C.O.D. Persons wishing to establish credit should furnish us with tree trade references and the name of your bank. On accounts overdue, interest will be charged at the rate of 1 1/2% per month amounting to 18% per annum. (.05% per day).
5. ORDERS: We do accept C.O.D. orders. All new customers with unestablished credit terms must pay C.O.D.
6. SHIPPING: Prices for trees are FOB our docks. All shipments travel at the risk and cost of the purchaser. Our responsibility ceases on delivery to carrier. Invoicing of freight charges is separate from plant materials invoicing. Federal ICC regulations dictate payment within 7 days of invoicing. Most truck brokers provide a prepaid freight service on the assumptions that ICC regulations will be observed. We will be happy to provide full or combination lead deliveries to your location where practical. You may also pick up your stock at our nursery if you will provide us adequate notice when you are coming to avoid delays to you and to us.
8. GUARANTEE: Sunleaf Nursery expressly warrants that all trees purchased will be true to name and in good healthy condition when they leave the nursery. Sunleaf Nursery also holds itself in readiness, on proper proof, to replace all such nursery stock that may prove otherwise. Sunleaf Nursery expressly disclaims any other warranty, expressed or implied, as to productiveness or growth, as to results secured in transplanting, or any other consequential damages. This warranty is not transferable and is void if payment is not made in full when due of the full contract price for all nursery stock shipped. Claims regarding incorrect counts or breakage will receive consideration only when made within 10 days after delivery of stock or acceptance thereof. Claims regarding disease or morality must be received by the 15th of June following the date of delivery. We shall in no case be liable for any sum greater than the amount originally received for said nursery stock.
9. CHOICE OF LAW FORUM: The parties hereto agree that is contract is made in Ohio and shall be governed under Ohio law. Further, venue for any action pertaining to a sale made under this contract shall be venued in Lake County, Ohio.
Volume Discounts | Contact Us | Terms & Conditions | Job Opportunities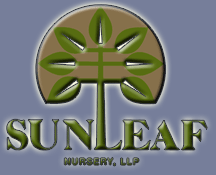 5900 North Ridge Rd. Madison, OH 44057
Ph: 440-428-4108 Fax: 440-428-5580
<![if !vml]>
<![endif]>